Sept 14, 2020
Is there any better remedy for the quarantine blues than some pretty graphs? Check out our new methods paper for visualizing temporally complex behavioral patterns in large sensor data sets in Frontiers in Veterinary Science.
McVey C, Hsieh F, Manriquez D, Pinedo P and Horback K (2020) Mind the Queue: A Case Study in Visualizing Heterogeneous Behavioral Patterns in Livestock Sensor Data Using Unsupervised Machine Learning Techniques. Front. Vet. Sci. 7:523. doi: 10.3389/fvets.2020.00523
July 18, 2020
New pub alert! Check out our new paper on personality testing with sheep in the Journal of Applied Animal Behavior Sciences.
Schiller, K., McVey, C., Doyle, S., Horback, K.M. (2020). Chute scoring as a potential method for assessing individual differences in arousal among ewes. Applied Animal Behavior Science, 230. 1-9. https://doi.org/10.1016/j.applanim.2020.105073.
June 3, 2020
Congrats to Dr. Horback for winning the 2020 UC Davis Chancellor's Award for Excellence in Mentoring Undergraduate Research. The virtual awards ceremony can be viewed at the Undergraduate Research Center website.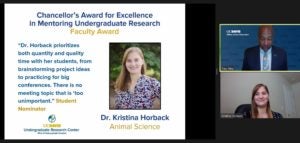 April 29, 2019
Horback lab well represented at the 2019 Undergraduate Research Conference. Good work all !