August 20, 2021
New pub alert!!! Working with Dr. Meghann Pierdon of the University of Pennsylvania Swine Teaching and Research Center, Catie and Tina published a unique study of preferred resting partners among group housed gestating sows.
Horback, K., McVey, C., & Pierdon, M. (2021). Association patterns across multiple gestation cycles within a dynamic sow pen. Applied Animal Behaviour Science, 105426.
May 18, 2021
Dr. Horback co-moderated the 2nd Annual Working Anthrozoology Group's Lecture by Dr. Donald Broom (Emeritus Professor of Animal Welfare, University of Cambridge), titled, "How does One Biology alter human interactions with other species?".
March 8, 2021
New pub alert! Check out our new review paper on methods to evaluate human-cattle interactions for beef breeds living on rangelands.
Creamer, Maggie; Horback, Kristina. 2021. "Researching Human-Cattle Interaction on Rangelands: Challenges and Potential Solutions" Animals 11, no. 3: 725. https://doi.org/10.3390/ani11030725
Sept 14, 2020
Is there any better remedy for the quarantine blues than some pretty graphs? Check out our new methods paper for visualizing temporally complex behavioral patterns in large sensor data sets in Frontiers in Veterinary Science.
McVey C, Hsieh F, Manriquez D, Pinedo P and Horback K (2020) Mind the Queue: A Case Study in Visualizing Heterogeneous Behavioral Patterns in Livestock Sensor Data Using Unsupervised Machine Learning Techniques. Front. Vet. Sci. 7:523. doi: 10.3389/fvets.2020.00523
July 18, 2020
New pub alert! Check out our new paper on personality testing with sheep in the Journal of Applied Animal Behavior Sciences.
Schiller, K., McVey, C., Doyle, S., Horback, K.M. (2020). Chute scoring as a potential method for assessing individual differences in arousal among ewes. Applied Animal Behavior Science, 230. 1-9. https://doi.org/10.1016/j.applanim.2020.105073.
June 3, 2020
Congrats to Dr. Horback for winning the 2020 UC Davis Chancellor's Award for Excellence in Mentoring Undergraduate Research. The virtual awards ceremony can be viewed at the Undergraduate Research Center website.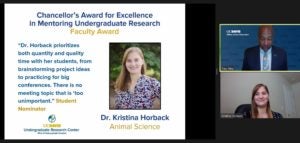 April 29, 2019
Horback lab well represented at the 2019 Undergraduate Research Conference. Good work all !