Lab Members
Kristina Horback
Lab Director
Ph.D. Experimental Psychology, University of Southern Mississippi (2012)
Dissertation: Temporal consistency of personality assessment in African elephants
M.A. Experimental Psychology, University of Southern Mississippi (2011)
Thesis: Variations in inter-specific social behavior throughout the estrous cycle of a killer whale
B.A. Psychology, University of California: San Diego (2007)
Dr. Horback is an assistant professor in the Department of Animal Science and is a faculty member of the Center for Animal Welfare at UC Davis. She is trained in animal cognition and comparative psychology and uses these skills to assess the psychological welfare (e.g., affective state, behavioral needs) of domestic farm animals and wild animals housed at zoos and aquariums. Specific research topics include how personality traits are related to individual differences in coping ability and cognitive processing.
UC Davis Department of Animal Science
UC Davis College of Biological Sciences
UC Davis Center for Animal Welfare
---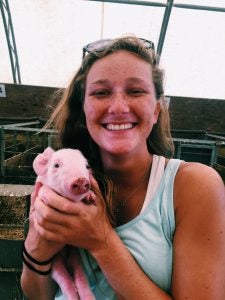 Maggie Creamer
Lab Manager/Junior Specialist
B.S. Psychology, University of North Carolina (2016)
Maggie completed the pre-vet course requirements while obtaining her degree as she always wanted to work professionally with animals, however she decided that research was a better avenue for achieving her goals of identifying factors of and improving animal welfare.  She focused on livestock animals, especially swine, after obtaining her Bachelor's degree.  Post-graduation, she worked on a research farm (Center for Environmental Farming Systems) in Goldsboro, NC in the alternative swine unit which boasted group-housed, enriched swine with the hopes of housing pigs outdoors in the future (pigs-on-the-ground project).  Maggie worked there for 7 months gaining knowledge about swine as well as the industry surrounding swine.  Finally, she began her career as Junior Specialist in the Applied Animal Cognition and Behavior Lab within the Animal Science Department of UC Davis hoping to look more into personality traits and behavior of various livestock animals and the implications that this research can have for the future of animal welfare in the production setting.
---
Kaleiah Schiller
Graduate Student (Ph.D. Animal Biology)
B.S. Animal Science, University of Wisconsin-River Falls (2017)
Hello! My name is Kaleiah Schiller. I am a recent graduate from the University of Wisconsin- River Falls. I majored in Animal Science with an emphasis in Companion Animal Science and a minor in Chemistry. As an undergrad I developed interests in animal welfare and husbandry, along with species specific behavior modification and training. As a member of the animal behavior and cognition lab I hope to continue my research in aspects of infrared thermography on improving and further understanding the health wellness of livestock species. I have a current focus on swine behavior and look forward to incorporating infrared thermography in research to determine the most practical and reliable locations to analyze surface radiation so that we may better understand the relationship between thermal-regulation and stress behavior. I look forward to investigating this instrument's impact on animal well-being, and collaborating with the great dynamic people and ideas here at UC Davis.